Many people seem surprised to find out that the chiropractic education process is so extensive. I usually reply, "…whether you're planning to become a chiropractor, medical doctor, or dentist, it takes four years of college followed by and additional 4-5 years of additional education (med school, dental school, chiropractic college) simply because there is that much to learn about the body to become a competent health care provider. "
Hence, depending on the area of interest a person has in the health care industry, it takes a similar amount of time to complete the educational program.
DID YOU KNOW…
The initial step is completing a typical "pre-med" undergraduate or college degree.
Courses including biology, inorganic and organic chemistry, physics, psychology, various science labs, as well as all the liberal art requirements needed to graduate are included in the undergraduate education process.
Many states now require 4 years of college in addition to the 4 to 5 academic years of chiropractic education to practice in their particular state.
Once entering a chiropractic university, the same format exists as most health care disciplines.
The basic sciences are covered in the first half of the educational process after which time successful completion of the National Boards Part I examination is required to move into the second half – the clinical sciences.
From there, internships, residency programs, preceptorship programs become available to the chiropractic student.
Once graduated, residence programs including (but not limited to) orthopedics, neurology, pediatrics, radiology, sports medicine, rehabilitation, internal medicine, and others are options. Many various Masters and doctorate programs in specialty areas are also available.
This chart shows the similarities between three health care delivery approaches, DC, MD, and DPT (doctor of physiotherapy). Curriculum Requirements For the Doctor of Chiropractic Degree (DC) in comparison to the Doctor of Medicine Degree (MD) and the Doctor of Physical Therapy Degree (DPT):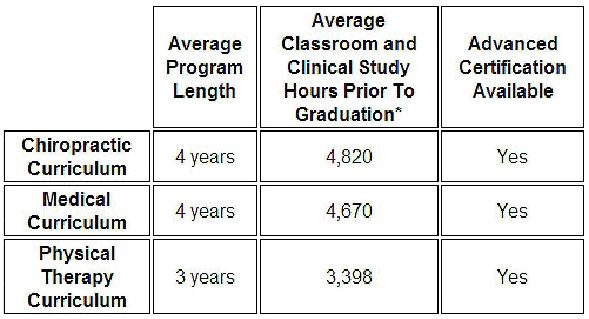 *Does not include hours attributed to post-graduation residency programs.
AS YOU CAN SEE, THE ACTUAL NUMBER OF AVERAGE CLASSROOM AND CLINICAL STUDY HOURS PRIOR TO GRADUATION IS EVEN HIGHER FOR CHIROPRACTIC COMPARED TO THE MD AND DPT CURRICULUM.
It should be noted that this does not include additional educational training associated with residency programs, which are available in the three disciplines compared here.
At one of the chiropractic colleges, the academic core program or Clinical Practice Curriculum consists of 308 credit hours of course study and includes 4,620 contact hours of lecture, laboratory and clinical education.
There are 10 trimesters of education arranged in a prerequisite sequence.
The degree of Doctor of Chiropractic (D.C.) is awarded upon successful completion of the required course of study.
In order to receive a degree, a student must have satisfied all academic and clinical requirements and must have earned no less than the final 25 percent of the total credits required for the D.C. degree, allowing up to 75 percent of the total credits through advanced standing.

The academic program may be completed in three and one-third calendar years of continuous residency. Graduation, however, is contingent upon completion of the program in accordance with the standards of the College, which meet or exceed those of its accrediting agencies.
In addition to courses included in the core curriculum, a variety of procedure electives are available to the students. These electives are designed to complement the study of adjustive procedures included and facilitate investigation of specialized techniques.
As a doctor of chiropractic, we are committed to providing the highest quality care available to our patients. We coordinate care with other doctors when appropriate in quest of reaching the goal of our helping our patients in the most efficient, economic, and evidence-based approach possible.